Zinc Aluminum Magnesium Steel Coil
The aluminum-magnesium-zinc steel coil (Al-Ma-Zn) is a new type of high-corrosion-resistant coated steel coil. Its base layer is mainly composed of zinc, plus 11% aluminum, 3% magnesium and a small amount of silicon. The
surface of the aluminum-zinc-magnesium steel plate has a fine spangle crystal texture, and the surface is coated with a special protective film to keep the surface of the product smooth and metallic.
Product Details
| | |
| --- | --- |
| Item | Zinc Aluminum Magnesium Steel Coil |
| Thickness | 0.4-2.5mm |
| Width | 900-1250mm |
| Coating Weight | 40-300g/㎡ |
| Steel Grade | DX51D+ZM,DX52D+ZM,S300+ZM,S320+ZM,S350+ZM,S390+ZM,S420+ZM,S450+ZM,S550+ZM |
| Surface Treatment | Fingerprint resistant passivation, Chromium free passivation |
| Application | Roofs, walls, ventilation ducts, containers, floor pavilions, rolling shutter doors, electrical back panels, auto parts, etc. |
| Package | Standard Export Package |
Excellent Performance
1.
Self-healing: The wound of the zinc aluminum magnesium steel coil is self-healing, and its cross section is usually covered by a dense protective film composed of zinc hydroxide, alkaline zinc chloride or magnesium hydroxide.
2.
Good corrosion resistance: It can effectively resist the corrosion of various acid and alkali chemicals and prolong the service life of steel.
3.

High temperature resistance: When the temperature is as high as 450°C -650°C, the coating can still be guaranteed not to fall off.
4.
Good ammonia resistance: The ammonia resistance of zinc aluminum magnesium steel coil is better than that of other hot-dip galvanization and hot-dip galvalume steel coil (55%) (change the solution every 100 hours after immersion in 10% ammonia solution, and confirm the plate state after immersion for 400 hours in total).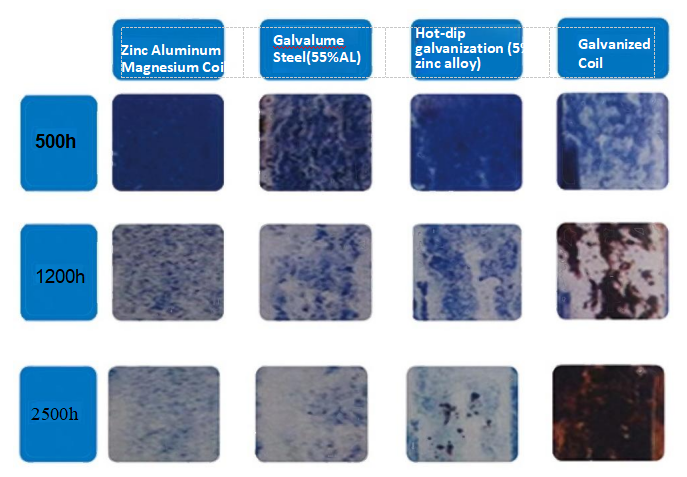 Note: Red rust occurs after 400 hours of Galvalume Steel, and rapidly after 1000 hours of Galvanized coil. After 1200 hours of Zinc Aluminum Magnesium Coil, there is no red rust and the condition is good.
5. Acid and alkali resistance: Compared to galvalume steel, zinc aluminum magnesium coil has less reduction in coating in acidic and alkaline environments. Galvanized coil has poor chemical resistance in strong acids with a pH value of 1-2, while aluminum zinc plating has poor chemical resistance in strong alkali with a pH value of 13-14, but zinc aluminum magnesium coil has better chemical resistance. Can be used for agriculture, animal husbandry, building materials, etc.
6. Environmental protection: It does not contain environmentally harmful Cr6+and uses Cr3+to achieve corrosion resistance. It is a very environmentally friendly material that meets the RoHS standards of the European Union and is internationally recognized as an environmental-friendly high-quality product.
7. Cost-effective: Performance meets or exceeds stainless steel standards in multiple aspects, but the price is far lower than stainless steel.
8. Various applications: Suitable for industrial construction, agriculture, animal husbandry construction, railway roads and bridges, power communication facilities, photovoltaic brackets, industrial facilities, and many other fields.
Precautions
Storage
: Store in a dry, well-ventilated room with no chemical pollutants around. If it is placed outdoors, it should be covered with rain cloth.
Transportation
: The steel coil must be tied and fixed during transportation, and covered with rain cloth to ensure transportation safety.
Slitting
: The width of the steel coil after slitting must meet the corresponding tolerances, to avoid burrs on the edges, and not to produce creases, gravures, scratches, embossing,foreign matter adhesion and other defects that affect the subsequent processing.
ZAM Applications
Suitable applications for ZAM include: construction (architectural building panels, perforated panels, metal facades, roofing); automotive; agricultural applications (chicken farm, swine containment, hoop buildings,

grain bins

, silos, etc.), green house structures, industrial HVAC, cooling towers,

solar racking

, school bus decking, swimming pool, sign posts, guardrail facades, coastal environments, cable trays, switch boxes, steel decking and framing, sound/wind/snow barriers and

many other applications

.